Support CFAC's important mission.






Have Rob speak at your event! More >>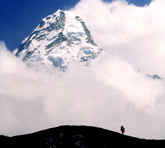 In April of 2001, CFAC Founder, Robert Chang lost his close sister, Marie to a rare form of cancer. In the Fall of 2001, he and friends successfully climbed Imja Tse, a 20,000 ft. peak in the Nepal Himalaya in her memory.
CFAC has continued to promote its programs which have the emphasis:
To climb high peaks throughout the World's greatest mountain ranges to promote the prevention, education and support activities of our cancer project partners.
To inspire individuals at risk for cancer to seek proper diagnostic action - self-exams, scans or medical testing appropriate to their age and level of health.
Call to action for corporate and individual donors to support through monetary contributions our project partners.
"In watching my sister fight this difficult disease like climbing a mountain, it dawned upon me that if I could continue my life with just one-percent of the energy and courage that she exhibited, I would have the spirit and vision to complete any mountain -- real or metaphysically -- for those who have fallen before her, and those who awaken to be affected by cancer today." -- Robert Chang
CFAC climbers show their true commitment to our project through self-paying for their current positions on our Everest Expedition and all past climbing promotions. All operating costs that involve our community programs and cancer awareness programs are currently funded through private philanthropic contributions. Post expense funds are committed to our cancer awareness and healthy lifestyle promotions and to our Cancer Project Partners.