Support CFAC's important mission.






Have Rob speak at your event! More >>



Lung-Tahs (Tibetan Prayer Flags)
These spiritual prayer flags are authentic Buddhist symbols that were purchased in shops in Kathmandu, Nepal. Each are a traditional roll of 25 Tibetan Buddhist prayer flags. In the center is the Windhorse, evoking power, the subduer of evil, and the vehicle of enlightenment. Upper right is the Druk or dragon, whose roar cuts through the fog of ignorance, the prime obstacle on the path to enlightenment. Upper left is the Kyung, the destroyer of evil. Lower left is the Senge or lion, a symbol of bravery. Lower right is the Tag or tiger, who depicts strength and confidence which one must possess to follow the path and become one with the Dharma.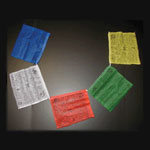 Set of 25 for $20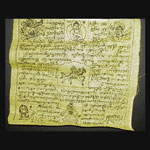 Set of 5 for $5

To Make a Donation to ClimbingForACure:
Please allow 4-6 weeks for processing and delivery. Thank you for your support!

Our Store accepts Visa, Discover Card, American Express and Master Card via a highly secure server and credit card service.