Support CFAC's important mission.






Have Rob speak at your event! More >>


Here in the near future, you find more individuals and groups of people who have inspired CFAC and those around them.
A hero is sometimes defined as:
A person who is endowed with great courage and strength, celebrated or recognized, remembered for their bold experiences.
A person noted for feats of courage or nobility of purpose, especially one who has risked or sacrificed his or her life and has had an impact on others.
In the Fall of 2003, Teedie Kimbrell, a very close family member to CFAC, was diagnosed with breast cancer. She has undergone a double mastectomy and has finished her chemotherapy. Please read Teedie's touching account of her own cancer experience. It was a natural choice for CFAC to promote the BCF because of Teedie's personal experience with breast cancer.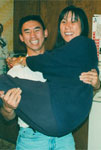 CFAC would like to recognize Marie Chang. Through her extraordinary and very difficult battle with cancer of the gall bladder, she showed many her strength and passion to fight the disease with dignity and with a sense of humor to the very end. Her care and consideration for those who cared for her was very special. Her passing was difficult to all who new her, but her legacy of love and tenderness lives on in our Expedition Inspire projects.
Our climbing teams will take a series of Expedition Inspire flags to the top of each summit it attains in the spirit for all those who have battled cancer and diseases that affect many in every day life.
Our sponsors and supporters are invited to submit their logos for addition to our flags to acknowledge their contributions to our cause.
The following is an excerpt from Robert Chang's eulogy read at Marie Chang's services.
Marie Elisabeth Chang
Daughter, Sister, Auntie, Friend
My Big Sis
"We shall never forget her, we will always feel her smile when the sun shines, her tears when it rains, her freedom in the heavens when the stars rise, her voice when the birds sing, her kiss when the wind blows on our cheeks, she shall always be with us."