Support CFAC's important mission.






Have Rob speak at your event! More >>



Local Culture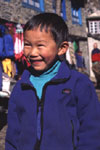 Local sherpa boy
About Nepal
Nepal's geography is wide ranging, from the Himalayas in the north to the southern Terai region - it truly is home to a wide range of culture. Kathmandu Valley has served as the country's cultural center since the consolidation of Nepal in the eighteenth century by Late King Prithvi Narayan Shah from Gorkha. The Valley's main cities are Lalitpur, Kathmandu and Bhaktapur. For the expedition climber, Kathmandu is where a team stages its logistics.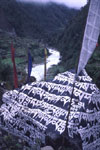 A mani stone on the trek into Mount Everest
The Everest Region
The Khumbu or Everest region is the most popular trekking area in Nepal. It is home to the Sherpa people (Sherpa meaning "people from the east) who make climbing and trekking possible.
Solu Khumbu is justifiably famous, not only for its proximity to the world's highest mountain, Mount Everest (29,035 feet), but also for its villages and monasteries rich with Sherpa culture. Our climb starts at the village of Lukla, and our trek takes us almost 23 miles over 14 days to reach Base Camp.
In the heart of the region lies Namche, the defacto Sherpa center of the Himalaya. Here we find many tea houses, shops and even internet cafes - a true testament to the Sherpa's business savvy.