Support CFAC's important mission.






Have Rob speak at your event! More >>



Climb Summary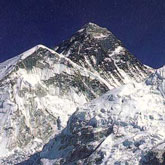 The great Kingdom of Nepal is home to the Himalaya, the greatest mountain range in the world.
The goal of the Expedition is to raise awareness about cancer prevention and education through our climb. We hope to inspire those around us to remember all the victims and survivors that have battled courageously against cancer.
Climbing Mount Everest is like a marathon - it is a long term, physical and mentally challenging endeavor. It presents great danger to even the most experienced climbers, but it is truly is one humankind's great pursuits.
CFAC climbs to inspire and benefit others. We hope that our Everest ascent will bring more exposure to our Project Partners and will help in the prevention and detection of cancer.
The Climb
Our team will be climbing the South-East Ridge route, known as the standard route. First climbed by Sir Edmund Hillary and Tenzing Norgay, the climbing line is broken into four stages. We will estbablish a Base Camp (17,600 feet) at the terminus of the famed Khumbu Icefall, a giant glaciated area that moves constantly and is one of the most dangerous parts of the mountain.
From Base Camp, we will climb through the icefall to the lip of the Western CWM and establish Camp One (19,200 feet). From Camp One we traverse through the CWM through a maze of crevasses and stare up at three magnificent faces of Everest, Lhoste and Nuptse. At around 21, 500 feet we will establish Camp Two. Camp three involves the team climbing the famed "Lhoste Face", a near mile high wall of rock and ice face to almost 24,000 feet. A lateral climb across a rock band known as the Yellow Band, and we will establish the most difficult and highest camp, the South Col Camp - Camp Four(26,000 feet).
From Camp Four the route fans out to the Summit with 3 distinctive places that mark the route. The Balcony, a flat area at about 27,700 feet, the South Summit, a bump of snow at 28,700 feet and finally the crux of the climb, the Hillary Step at 28,750 feet.
From the Hillary Step, the ridge tapers off and we find the highest point on earth, the summit of Mount Everest, 29,035 feet.