Support CFAC's important mission.






Have Rob speak at your event! More >>



Journal
Dispatches are in reverse chronological order, with the most recent appearing first.
Wedesday, May 18 - Friday, May 20
The Everest Waiting Game from Rob Chang...
Well our plans along with many other teams were scrubbed for heading up on the 19th to Camp 2 for our summit push - bad forecasts for high winds and cold weather made many teams including ours to make a prudent decision to wait out a bit more before heading up.
Morale around BC has been one of apprehension and talk of a season with no summits but we are still in mid-stride in terms of believing we will get our shot. There have been many reports of bad frostbite on the Northside with an ascent in progress. We have been sitting out hearing 4-6 other teams that headed up to attempt a summit for the 21st on the Southside but as of today (the 20th Nepal time) a few have aborted for sure heading back down from Camp 3 to Camp 2, as the forecasts have not improved. There are reports that there are 2 teams still heading up for the summit.
As for our team, we are still doing hikes and our BC Manager has organized a Base Camp Bazaar for teams to trade out gear and food that is available for trading. We are tired of our muesili and tuna and I have a set of down booties up for trade.
As for up on the mountain, the more experienced teams have opted to wait out a possible window between the 25th and 31st and we will probably be somewhere in this mix.
The definite strain of on again off again schedules to summit the highest peak on earth can be a relentless exercise of psychological torment for all of us. As experienced climbers, we know this is the process, but it is no easier to go through in real life even with our levels of experience. With our exit plans being discussed, bonuses for our staff, rounding out owed group monies, all these things are self-evident, yet not to know even if there will be a window is a hearthbreaking and difficult situation to assess.
Our team has members that are here for their 3rd and 4th attempts, and the personal commitment these individuals have put forward show the difficult lifestyle a mountaineer leads. Conversation has touched on whether this is the last time on Everest for some, regardless of a summit or not, and these are hard words to come by, even for the most seasoned climber.
The daily process to dissect our weather forecasts has become a task of hope and dispair in a sense. There is news of the monsoon developing and improving weather, but with this, brings a tempered sentiment of pessimism as that has happened twice already with the weather not improving, and our windows to summit being scrubbed.
In terms of team, we still have maintained our sense of humor and realism, coming to the belief that climbing is not everything, and that we must have a balanced view of what we are doing since we have been bottled into the Everest focus for almost 2 months now. For me, our project to inspire others and to promote our cancer awareness project has been a great success. I hope only to have the great chance have a shot at the top to world...
We are still hopefully in the time left that the weather will indeed clear and our team will climb on...
Saturday, May 14 - Tuesday, May 17
Everest Base Camp - Getting Ready to Go...from Robert Chang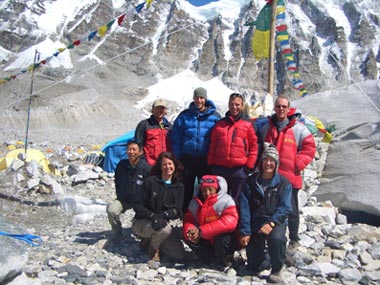 The ECFACE team has had a good rest now and is ready to move up the mountain. Many teams have headed up to Camp 2 to start their summit pushes and there are teams that will try on the 17-19.
We have decided to hold back between the first teams who will put in the initial ropes above Camp 4 and some larger groups that may pose some issues of delays and bottlenecks on the route that can be dangerous.
Our plan is to be in the middle hopefully. Each climber has selected their climbing Sherpa whom they will climb with from Camp 4 to the summit. The spirit in BC is one of hope and apprehension as we jockey for the best weather reports and try to decipher what they may bring to us.
Our Sherpa team is ready and we are ready to go.
The conditions on the mountain have been variable. We have had some strange weather, sunny, then cloudy, then snowing all at once. Higher on the mountain, there was a recent avalanche again at Camp One, that was not as big as the previous one, but nonetheless made it to the area where teams were putting tents in the beginning of the season. No one was hit or affected, but this has forged many teams, including the guided ones, to forego having a Camp One as a stop off point between BC and Camp 2. It is just not worth the risk of having another monumental slide that could wipe out climbers who could be staying in that area overnight.
We have had reports of severe type conditions at Camp 3 this past week. Some teams lost complete tents, after ascending up the Lhoste Face, only to find empty tent platforms where their gear and camp previously was. Wind and severe weather being the culprit in ripping their stuff off the LhosteFace - thankfully no one was in the tents at the time. Some other teams headed up to Camp 3 for the first time and were digging a platform for their camp, only to find after 30 minutes of shoveling, tents under the snow where they thought was solid ice and snow - illustrating the amount of snow fall/drift on the face and how it can affect current camps.
For us, our Camp 3 was intact as of 4-5 days ago and we are hoping to find asturdy and safe perch when we arrive at this higher area. Our time is passing here by visiting other teams and having conversations about life and climbing. I traded another 1/2 pound of beef jerkey for a real score, an almost 3 pound Hungarian Salami stick, which I will be sharing with the team for lunch sandwiches.
Once again, our BC manager has been in the thick of things, helping coordinate the big effort to put in the ropes above Camp 4, making sure those Sherpas have oxygen up there and generally being a big gear in making sure our climb is going forward behind the scenes.
On the 15th, it was Dr. Chuck Huss's birthday. We bored him with movie trivia after breakfast but..it was a leisure day for Chuck. He hiked and hung out, and out at dinner, our very modest gifts of a bottle of coke and 3 candy bars were well wecomed. Our Sherpa cook once again made a great dinner and then cake and we stuffed ourselves.
May 16 - 17
The next few days, were ones of a bit of nervousness for other teams. There was news late last week that there may be a good weather window on the 17 and 18 so a few team poised themselves at Camp 2. By all dissmenation, there indeed was not to be a window, yet some of these teams forged a plan to go for it. A few others came back down to BC. The fate of the teams that pushed on are still up in the air and we are awaiting confirmation of what happened to them.
As for other teams - many have left today and will do so on tommorow on the 18th. These teams plan to go up for a summit attempt on the 21st and 22nd. Which the weather looks more favorable compared to what has been going on.
Chuck, Dan and I went on a great hike through the glacier/Ice Fall terminus and hiked onto the other side of the glacier and headed down valley finding small snippets of past expeditions churned up over the decades. It was amazing to be on the other side of the glacier and to find where expeditions once statiioned their Base Camps. The return hike was a bit adventurous and hard on our knees, but good video and photos were taken. A trip well worth the work.
Our Possible Summit Push
News has it that a combined Sherpa team had put in the fixed ropes above Camp 4 to the Balcony - this was a big feat and has opened the "gates" a bit to make other teams jump for the chance for the summit.
Our Sherpa team, as well as Apa Sherpa still feels we should wait a bit, and be in the middle of the pack. Probably aiming for the 23 of May for our summit day, putting us to leave here in Base Camp on this Thursday, the 19th.....we are hoping, praying and all on edge as this can be whisked away by one bad weather forecast, but for now, we are banking on it and are excited but know that the plan can change......besides, the Tibetan Calendar says positive things on the 23rd as well as the new full moon lies on that night.